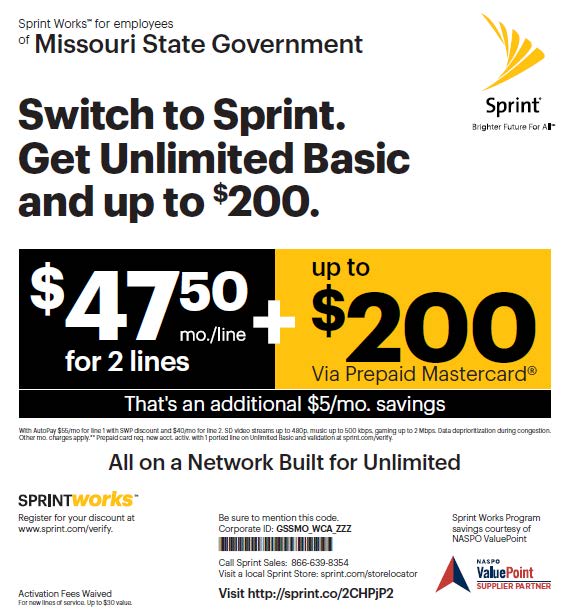 Limited Time Offer – Get 2 lines for $47.50 mo./line when you bring or buy your phones PLUS up to $200 via Prepaid Mastercard
$200 MasterCard Promotion – Sprint Works Program exclusive
New accounts only
Requires one line to be ported from another carrier
Must verify discount at sprint.com/verify within 30 days of activation

No other registration required

Account must be in good standing
Allow 8-10 weeks for MC Cards to arrive after 30 day waiting period
Combinable with Clean Slate contract buyout program
Unlimited Basic, Plus, and Premium plans.
Customers who switch to Sprint can get the NEW Unlimited Basic plan with 2 lines for $47.50 mo./line
Unlimited Basic Pricing – Unlimited talk, text, data                  
SWP $5 discount per account included in pricing (discount given on Line 1)
Line 1: $55/mo. with AutoPay and Sprint Works discount
Line 2: $40/mo. with AutoPay
Lines 3-10 : $20/mo. with AutoPay

TV you love, with Hulu
Music streaming with TIDAL
500MB LTE Mobile Hotspot to keep all your devices connected
The ability to stream in DVD quality (480p) video
Sprint Global Roaming in more than 185 worldwide destinations
Unlimited calling and texting in Canada and Mexico, and 5GB high-speed data
Add $10/line for Unlimited Plus – includes above features +:
Tidal Premium
15GB Mobile Hotspot
1080p video HD Streaming
10GB high-speed data in Canada/Mexico
Add $30/line for Unlimited Premium – includes above features +:
Amazon Prime
Lookout Premium Plus
50GB Mobile Hotspot
Full HD Streaming video
Unlimited 4G LTE data in Canada/Mexico
What if I'm a current customer?
Current customers without a discount can add their discount code by visiting www.sprint.com/verify, and their discount will be added depending on their current rate plan, if applicable. Not all plans are eligible.
Current customers can switch to our Sprint Unlimited Basic or Plus plan and get $5 off per account with our Discount Program.
Regular pricing for Unlimited Basic is $55 for line 1, $40 for line 2, $20 for lines 3-5. This includes your employee discount of $5 off per account on line 1, and Autopay discount.

Add $10 per line for Unlimited Plus

Call or visit a store to check your eligibility – phone still under contract may incur additional fees to switch to our Unlimited plans.
How to Receive Discount
Visit or call Sprint at 866-639-8354
Use this code for the Sprint Discount Program. Corporate ID: GSSMO_WCA_ZZZ
Visit www.sprint.com/verify
Contact Information
Call Sprint Sales: 866-639-8354 Discount questions? Call Sprint Care: 888-211-4727 Visit a local Sprint Store:
sprint.com/storelocator